Chairman's Library: National Leadership on Essential Issues for Physicians
Richard E. Anderson, MD, FACP
Our chairman and chief executive officer is a noted authority on medical liability insurance and jurisprudence. A nationally recognized advocate for advancing the practice of good medicine, Dr. Anderson has testified on medical liability reform before Congress and state legislatures. He currently serves on the board of advisors of the RAND Institute for Civil Justice, as vice-chair for the Medical Professional Liability (MPL) Association Education & Research Foundation, and as a faculty member for the Institute for Healthcare Improvement (IHI).
Dr. Anderson is the author of a number of peer-reviewed publications on medical malpractice and the impact of defensive medicine, including the following articles.
As Corporate Entities Enter Healthcare, Practices Can Respond via Patient-Centered Care
As we look forward at TDC Group, we asked the question, "What will healthcare look like in a decade?" In our new report, we lay out some of the most pressing issues medical professionals must address as we look ahead, and our top 10 predictions for how U.S. healthcare will change over the next ten years.
(January 27, 2022)
Getting Sued for Breast Cancer Malpractice
Our closed claims data reveal that suits involving breast cancer are the most common type of cancer-related claim. This article lists the issues that most often lead to claims.
(September 29, 2021)
Before COVID-19, Outlier Medical Malpractice Verdicts Were Rising—What's Next?
Severity—the average cost of a medical malpractice claim—continues its relentless increase. How will it be affected by the COVID-19 pandemic?
(December 14, 2020)
A Call for Innovation and Leadership in Healthcare
As the healthcare landscape continues to evolve, Dr. Anderson explains the need for leadership and innovation during COVID-19.
(December 2, 2020)
How Healthcare's Transformation Affects Physicians and Patients
Dr. Anderson discusses some of the most pressing issues facing providers today, including rising healthcare spending and hospital mergers.
(November 26, 2019)
How the Medical Malpractice System Influences Care
Dr. Anderson discusses how the medical malpractice system often burdens good physicians with years-long lawsuits—and shows how the cost of defensive medicine affects us all.
(July 19, 2019)
Health Insurance Reform Could Lead to Patient Abandonment: Why the Silence?
Will Washington cancel coverage for millions of patients and unleash a tidal wave of litigation on the U.S. health care system? I challenge leaders in health care and government to address this question.
(June 30, 2017)
It's Time to Reset the Medical Malpractice Insurance Conversation
After speaking with more than 800 doctors, practice managers, and group administrators nationwide, it's clear that it's time to reset the conversation around medical malpractice insurance. Dr. Anderson explains why he believes companies should serve the medical profession by partnering with those who provide care.
(March 29, 2017)
Effective Legal Reform and the Malpractice Insurance Crisis
Yale Journal of Health Policy, Law, and Ethics
This case study addresses two major issues pertaining to the malpractice insurance crisis: First, is there really a crisis? Second, what is the best way to improve the medical liability system?
(December 29, 2004)
Defending the Practice of Medicine
Archives of Internal Medicine
This commentary outlines the extent of the malpractice insurance crisis, refers to historical antecedents, analyzes the causes, and provides contemporary and practical solutions.
(June 14, 2004)
Billions for Defense: The Pervasive Nature of Defensive Medicine
Archives of Internal Medicine
This article discusses the practice of defensive medicine, focusing on the ethics and possible consequences.
(November 8, 1999)
What Doctors Need to Know About Malpractice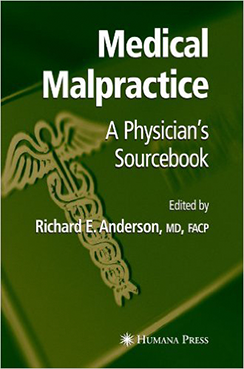 This authoritative and wide-ranging book gets to the heart of issues facing physicians and surgeons today. Chapters by Dr. Anderson on the insurance industry, breast cancer litigation, and legal reform measures, combined with important sections written by The Doctors Company's former medical director and board member, David B. Troxel, MD, and former board members Mark Gorney, MD, FACS (1924–2014), and Ann S. Lofsky, MD (1956–2008), make this book an essential medical-legal resource.
Medical Malpractice: A Physician's Sourcebook is now available in paperback and Kindle editions.