For 45 years, The Doctors Company has been committed to advancing the practice of good medicine and building healthy communities, improving access to healthcare, and addressing the social determinants of health through our three community investment programs. Our commitment is reflected in the financial and volunteer contributions of our employees, corporate charitable donations that directly support communities where we work, and patient safety research and education grants for healthcare professionals in training and in practice through The Doctors Company Foundation.
"We are advocates for the health of the entire community—in and out of the clinical setting."
What Are Social Determinants of Health?
Social determinants of health (SDOH) are the conditions in the environments where people are born, live, learn, work, play, worship, and age that affect a wide range of health, functioning, and quality-of-life outcomes and risks.
SDOH can be grouped into 5 domains: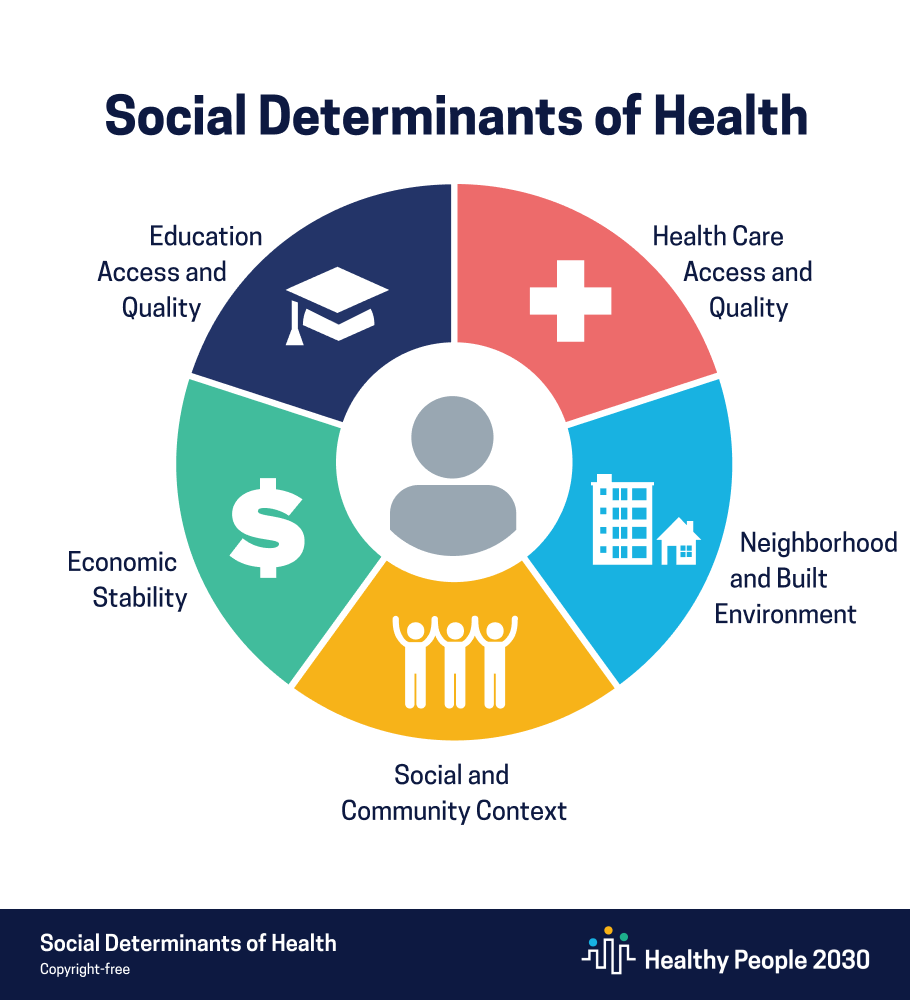 Featured Story: Food Insecurity
When the COVID-19 pandemic increased food insecurity, The Doctors Company employees increased their community contributions.
Community Investment Programs
H.O.M.E.'s Intergenerational Housing and Upkeep & Repair programs offer different ways to support Chicago seniors.
Corporate Charitable Giving Program
As a national, member-owned company, The Doctors Company invests in communities through our Corporate Charitable Giving Program. We are committed to reflecting the values of our members and employees, partnering with 501(c)3 nonprofit organizations in the communities in which we have a significant presence. Our investments aim to address the social determinants of health—creating environments that promote good health for all.
Mentis' Youth Prevention Programs support, engage, and empower teens through mental health and wellness programs at schools and in the community.
Employee Gift Matching Program
The employees of The Doctors Company consistently demonstrate their generosity to the causes they care most about, and this community investment program reflects these values. The Doctors Company offers its employees a way to increase both the impact of their charitable giving and their volunteer efforts through our Employee Gift Matching Program. A TDCSU employee recently said, "Thank you again for allowing us to support organizations that we believe in. They need us now more than ever."
The Doctors Company Foundation
To date, The Doctors Company Foundation has provided more than $6 million in grants supporting patient safety research and patient safety education for healthcare professionals. Learn more about the Foundation's grantmaking at tdcfoundation.com. Grant recipients must be able to demonstrate innovative approaches, patient/clinician outcomes, and be able to disseminate findings publicly.
2022 Community Investment Annual Report
Giving back has long been an integral part of the TDC Group culture. Learn how we expanded our efforts in 2022, through Employee Gift Matching, Corporate Charitable Giving, and The Doctors Company Foundation.