2020 Community Investment Annual Report
It was clear that 2020 was an extraordinary year, as our members and all healthcare providers dealt with conditions more fitting to a battlefield than healthcare. But as our members met and exceeded the challenges, we were also proud to see our employees and nonprofit partners rise to meet the needs of our communities. The Doctors Company is committed to building healthy communities, improving access to healthcare, and addressing the social determinants of health.
The Doctors Company is proud to support our employees and members in addressing social determinants of health including equity issues through our three community investment programs:
Corporate Charitable Giving Program
As a national, member-owned company, The Doctors Company invests in communities through our Corporate Charitable Giving Program. We are committed to reflecting the values or our members and employees, partnering with 501(c)3 nonprofit organizations in the communities in which we have a significant presence. Our investments aim to address the social determinants of health—creating environments that promote good health for all.
By funding local nonprofit partners who know their individual community's needs, we can help to reduce inequities, level the playing field, build resilience, and improve community members' capacity to succeed. Some tangible ways our nonprofit partners do this is by providing:
Safety net services such as food, emergency, and short-term housing and financial assistance.
Help for families who have suffered losses during the pandemic or natural disasters.
Healthcare and mental health services.
Safe places to stay for those affected by domestic and sexual violence.
Improved educational outcomes for underrepresented youth.
Culturally competent services that address social, economic, and racial inequities.
In 2020, The Doctors Company supported 55 organizations with our corporate charitable contributions.
As we all faced a new reality while COVID-19 impacted nearly every aspect of life, The Doctors Company adapted to these changing conditions to elevate our impact on the communities we serve. One example came early in the pandemic, as COVID-19 severely challenged the New York City area. The Doctors Company increased our charitable contributions to provide eight New York City organizations with support for healthcare workers, patients, and those most vulnerable in the community.
The below chart represents the breakdown of our corporate charitable contributions in 2020.
Categories Representing The Doctors Company's Corporate Charitable Contributions
Examples of Organizations Receiving Support
Clackamas Women's Services is an Oregon-based domestic and sexual violence response agency. As a result of The Doctors Company's 2020 contributions, Clackamas Women's Services Development and Communications Director Brenda Kinoshita said, "We put your generosity to work immediately as we continue to shelter and provide resources to those impacted by violence, and additionally by COVID-19. Your generosity, paired with the strength and resiliency of survivors, means safe places to stay, warm meals, and wrap-around support for survivors as they reconnect with their community."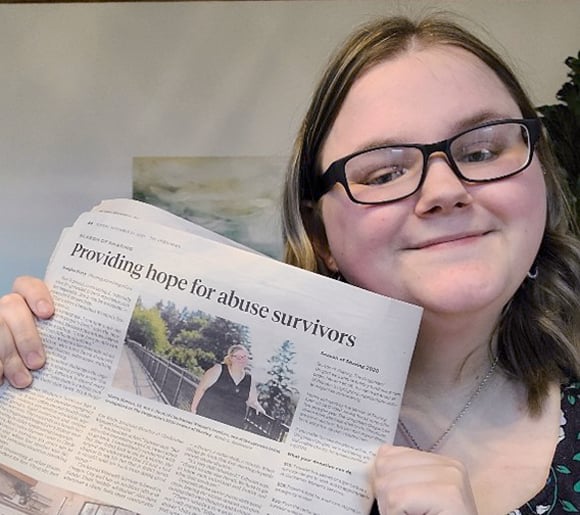 Sierra Havens was a client of Clackamas Women's Services and now volunteers as a counselor at Camp Hope, which the Oregon City nonprofit runs with another organization.
Housing Opportunities & Maintenance for the Elderly (H.O.M.E.) is a nonprofit organization committed to improving the quality of life of Chicago's low-income elderly. In response to the aid provided by The Doctors Company, Executive Director Gail Schechter said, "We were especially grateful for The Doctors Company's support last year when we had to cancel our celebration dinner at the beginning of the pandemic. Your organization was the first to convert your dinner sponsorship into unrestricted funding, which allowed H.O.M.E. to be nimble and provide emergency support including a free grocery delivery program for low-income seniors throughout Chicago."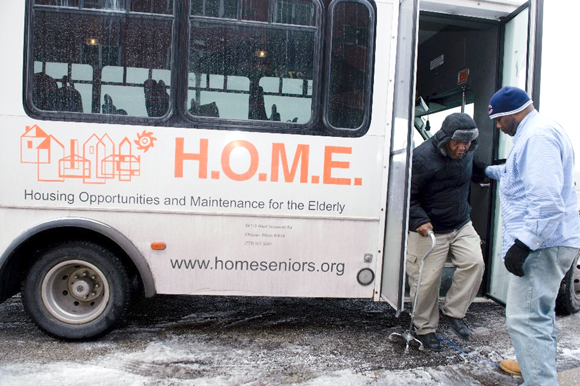 Transportation Coordinator Ernest Dixon operates H.O.M.E.'s wheelchair accessible shopping bus that connects low-income residents of senior buildings throughout Chicago with full-service grocery stores.
Mentis is Napa's oldest nonprofit, providing bilingual and affordable mental health services to people of every age and income level. They believe each of us has the capacity to improve our mental health, but not all of us have the tools and resources to do so. The support offered by The Doctors Company is critical to the success of our programs, Executive Director Rob Weiss explained, "The Doctors Company truly understands how many mental health crises in the community can be avoided when people have the resources needed to address their challenges before they are too great to be overcome. We sincerely appreciate all they have done for us over the years."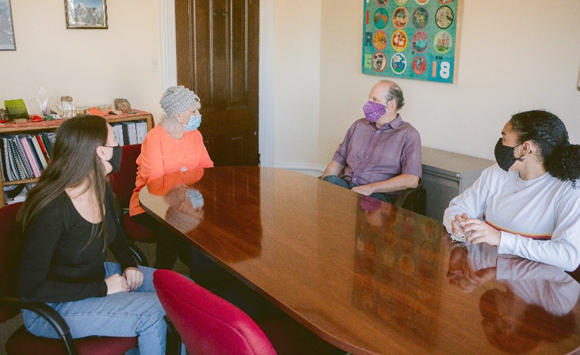 Licensed Clinical Social Worker (LCSW) Rob Weiss manages and oversees all services, staff, and fiscal operations at Mentis and has been with the organization since 1996.
Employee Gift Matching Program
The employees of The Doctors Company consistently demonstrate their generosity to the causes they care most about, and this community investment program reflects these values. The Doctors Company offers its employees a way to increase both the impact of their charitable giving and their volunteer efforts through our Employee Gift Matching Program. Many of the nonprofit organizations that our employees choose to support address the social determinants of health at both local and national levels.
The employees may request dollar-for-dollar matching contributions to eligible organizations. Employees who volunteer their own personal time to an eligible organization may request a contribution to the organization for every 15 hours volunteered in a calendar year.
In 2020, due to the impact of the pandemic, The Doctors Company allowed flexibility for employees to reach the maximum match via any combination of volunteer or monetary donations as some employees experienced household income loss but were able to volunteer more. Others had to reduce volunteer hours due to health concerns but were able to give larger monetary donations.
Last year, employees contributed 1,820 hours of volunteer time.
Some employees actually gave many more hours of their time than they were eligible to match—a testament to the altruistic spirit of employees from all over the U.S.
The below chart represents the breakdown of our employee gift matching in 2020.
Categories Representing The Doctors Company's Gift Matching
Highlights From the 2020 Gift Matching Program
The Doctors Company and its employees stepped up to address food insecurity, a component of the social determinants of health, in their communities and across the country during the pandemic in many ways:
70 different organizations received food insecurity matches.
Approximately one quarter (1/4) of the total gift matching for 2020 addressed food insecurity.
118 applications were matched.
Organizations ranged from small, local food pantries and local Meals on Wheels to large city food banks and coordinated efforts like World Central Kitchen.
Donations were given to organizations offering nutrition programs plus other safety net support services like clothing, housing and shelter, and utility assistance.
Employee Comments

The Doctors Company Foundation
Created in 2008, The Doctors Company Foundation is a 501(c)3 nonprofit charitable organization. The purpose of the Foundation is to support patient safety education for healthcare professionals in training and in practice, and patient safety research with clinically useful applications. With this in mind, we focus on projects and activities that develop knowledge, techniques, and tools whose application reduces or eliminates risk of adverse events that cause harm to patients while under care.
The Foundation is governed by a Board of Directors that includes physicians and corporate representatives. The Board is chaired by William C. Rupp, MD.
To date, The Doctors Company Foundation has provided more than $6 million in grants supporting patient safety research and patient safety education for healthcare professionals.
Following a highly competitive 2020 grant cycle with a focus on innovation, The Doctors Company Foundation awarded grants to support three new projects:
Icahn School of Medicine at Mount Sinai and NYC Health

+ Hospitals An intuitive, nonintrusive approach to reduce patient harm from inappropriate dosing of high-risk drugs in older adult patients across an urban safety net hospital system

Department of Emergency Medicine, University of Michigan Medical School

Immersive Virtual Reality Environment for Training Acute Care Teams (iREACT)

Anesthesia Patient Safety Foundation

Perioperative Deterioration: Early Recognition, Rapid Response, and the End of Failure-to-Rescue
With these grants, the Foundation demonstrates its ongoing commitment to patient safety and looks forward to providing study outcomes and publications as they become available.