Medical Malpractice: A Physician's Sourcebook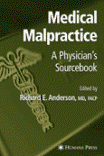 Edited by Richard E. Anderson, MD, FACP, chairman and CEO of The Doctors Company, this authoritative resource for physicians is now available in paperback and Kindle format.
What is behind the medical malpractice crisis? What legal reforms would alleviate the crisis? What can you do to prevent litigation? What do you do when you have been sued? Are there alternatives to the current system? How does the medical malpractice insurance industry function?
In Medical Malpractice: A Physician's Sourcebook, a panel of physicians, attorneys, academics, researchers, and insurance industry experts consider these and other questions about the origin, nature, and ramifications of the medical malpractice litigation crisis, as well as possible solutions and alternatives to the current system. The authors focus on the clinical face of litigation from the perspective of the practicing physician in a variety of specialties. Additional legal chapters examine the litigation process itself. Public policy experts argue the case for legal reform, suggest changes in medical-legal jurisprudence that can be of immediate benefit, and reflect on the broader problems of our entire healthcare system and its interface with law and social policy.
Authoritative and wide-ranging, Medical Malpractice: A Physician's Sourcebook gets to the heart of issues facing physicians and surgeons today. It focuses on the practical aspects of medical malpractice lawsuits and prepares physicians and surgeons to participate in the public policy debate for legal reform.
Features
Comprehensive review of contemporary medical malpractice litigation.
Viewpoints of doctors, lawyers, policy experts, and the malpractice insurance industry.
Discussion of the mechanics and operations of malpractice insurance.
Physician response to litigation as either defendant or expert witness.
Risk management for all practicing physicians.
Detailed coverage for family physicians, anesthesiologists, plastic surgeons, pathologists, obstetricians-gynecologists, emergency room physicians, and other specialists.
Evaluation of the emerging legal significance of e-medicine.
Survey of breast cancer and Pap smear litigation.
Medical liability in obstetrics, gynecology, and plastic and reconstructive surgery.
Benefits
Understand what every doctor should know about litigation and how to win it.
Prevent litigation and deal more effectively with it when it occurs.
Master the techniques of risk management for high liability medical specialties.
Learn about proposals for new directions in medical liability reform.
Obtain key source material for participating in the public debate on medical malpractice reform.